Aluminum air ducts
wide range of diameters
rigid and flexible structures
high wear resistance and strength
favourable price
The production is certified. There are all necessary documents (certificate of conformance РОСС. АЮ96.Н02286 №0197049 from 20.11.2003, sanitary and epidemiological inspection report, fire testing report).
A triple lock seam allows multiple compressions/stretches without air-duct destruction.
Specification of air ducts
| | |
| --- | --- |
| Material | Aluminum foil, thickness 0,08 ÷ 0,12 mm |
| Standard length | 3 meters in the stretched state (0,50 m in the compressed state) |
| The temperature of transferred air (vapors) | -30… +300° С |
| Diameters | 80; 90; 100; 110; 115; 120; 125; 130; 135; 140; 150; 160; 170; 200; 225; 250; 315 mm |
| Increased flexibility | by means of 10 fins (Z) between locks |
| Minimal bending radius | 0.76 D mm |
| Package | polyethylene shrink film |
Aluminum semirigid air duct from OOO "Ankor"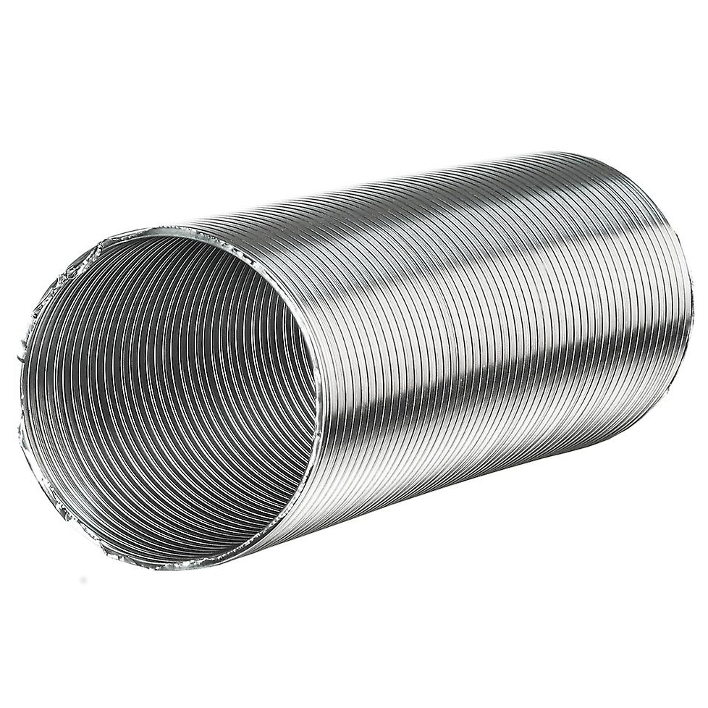 High strength of a pipe (aluminum foil is stronger than lavsan film, even foil-laminated).
Long lifetime.
An aluminum semirigid air duct endures a big pressure drop at reversal loads of air flow.
Larger range of working temperature (270° for semirigid air duct versus 135° for flexible air ducts)
Minimal losses of air flow are achievable because of the minimal profile dimensions of a swage.
Low price of 1 linear meter of air duct.
High corrosion resistance – an aluminum air duct withstands aggressive environments and solar radiation.
The use of a semirigid air duct in the open air is allowed.
There is no need in grounding.
Higher rigidity.
Does not require fully stretched state as a flexible air duct does.
Less bending radius (0,76 D versus 2 D for flexible one).
The use in the rooms for cooking, ironing, linen drying is allowed.
Buy air ducts at competitive prices
ANKOR company represents air ducts at competitive prices on Russian market. Due to the price, the proposal for this kind of products from ANKOR is more attractive. We provide our customers with qualitative products herewith a quality-price ratio is the most optimal.
We offer a long-term mutually beneficial cooperation, assuring comfortable working conditions. Our regular clients get discounts. We are working individually with every order to find the best conditions for cooperation for every client. If you make a decision to buy air ducts from us, you'll not only be able to purchase qualitative products, but also save considerably.
For all your questions you may contact our managers by phone numbers, listed on our website. We'll provide you with more details on prices for bulk orders, on volumes and methods of products delivery.
Aluminum corrugated pipe twelve reasons to buy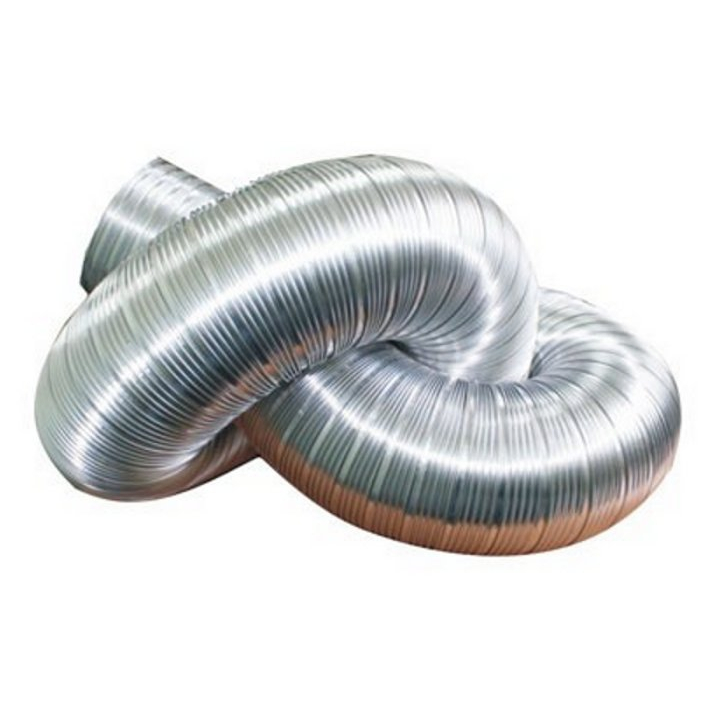 Increased flexibility without changing of size dimensions is created through a big number of swages between the locks.
Optimal rigidity is ensured by the geometry of a profile (a swage).
High-strength triple lock is created through repeated bend section of a band with following rolling on.
Stable geometry of a duct and quality metal allow multiple compressions and stretches of a duct without the loss of consumer features.
Minimal aerodynamic losses of the air flow are achievable because of the optimal dimensions of a profile (of a swage).
Small dimensions in the compressed state (500 mm) allow to store, stock and transport a greater number of products.
Original marketable style is created by shrinkable film wrapping and the usage of laminated labels.
The presence of a bar code allows to buy air ducts in large building supermarkets.
The products are certified:

The compliance certificate (reg. No. POCC RU.0001.10 АЮ96) was issued by the certification authority for industrial products and services, OOO "Samara certification center of products and services"
Hygienic certificate (Sanitary and Epidemiological Conclusion, reg. No. 63.01.05.486.П.000670.02.04) was issued by the Ministry of Health Policy of the Russian Federation. State Sanitary and Epidemiological Inspection center in Samara region.
The compliance with International standard DIN4102/A1.
The products passed the heat resistance test (test protocol No. 385). The test was carried out in the fire test laboratory in the State Firefighting Service of EMERCOM of Samara region.

The maximal length is 3 meters in the stretched state from the center.
The compliance of geometrical dimensions with the claimed parameters.
The wide range of the release of typical sizes (O 80 ÷ O 315).
Product certificates